Perkins Drilling Tools specialty services can inspect, test and certify all types of lifting applications. From oilfield handling tool equipment including hooks, blocks, casing tools, tongs, swivels, elevators, and spiders with load test certification and destructive testing up to 3 million pounds.
All load test units are calibrated to standards by IMO / National Oilwell Varco and monitored by our ISO 9001:2008 management system. The measurements results are traceable through and unbroken chain of comparisons to reference standards developed and maintained by the National Institute of Standards and Technology.
At Perkins Drilling Tools, we offer complete maintenance and repair programs design to meet to today's highest standards of any drilling rig contractor.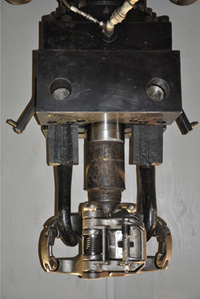 "Test Integrity under Load"
Contact Us
Perkins Drilling Tools
11626 Tanner Rd.  Houston, Texas 77041
(713) 849-9155  FAX (713) 849-9188